Girls Hostel
History
Every great creation will start with one seed
That is true in our hostel history.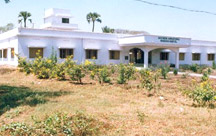 Side View Of Womens Hostle Bulding
The hostel was started in the year 1997 with only 5 members of three different courses in temporary building. The Permanent Building of Ground Floor of the Women's Hostel was constructed in the year 2004 under the assistance of University Grants Commission during IX Plan Period under special scheme with 24 rooms. Now 70 members of eight P.G. courses residing in the hostel. The hostel has great infrastructure with fully established Mess and lot of fecilities.
Facilities
We are providing so many facilities to the hostlers like:
Mess
Separate dining hall for both boys & girls.
Aqua purified and cooling water for drinking.