ANRCOSA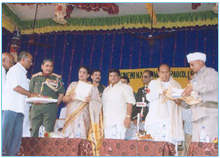 ANRCOSA - Akkineni Nageswara Rao College Old Students' Association Regd.No.101/2000
A historic event took place during Golden Jubilee Year of the College. The Old Students of this College decided to form into an Association in the name of Akkineni Nageswara Rao College Old Students' Association (ANRCOSA).
The ANRCOSA is founded with the aim of serving the public in the noble field of education. Several philanthropic old students, staff members and members of the college committee came forward magnanimously with handsome contributions. Their contributions and their services are duly acknowledged by the college.
A.N.R College Old Students' Association (ANRCOSA)
On the eve of Golden Jubilee Celebrations in December 2000, the alumni of this college formed into an association and registered it in the name of "A.N.R.College Old Students' Association" (ANRCOSA), Gudivada, under the Regd. No.101/2000 with the Government of Andhra Pradesh. A former student of this college Prof.Yarlagadda Lakshmi Prasad, Ex-Member of Parliament became the honorary president.
Main Objectives of ANRCOSA:
I. To provide infrastructural facilities in the college.
To this end ANRCOSA has been contributing funds for the construction / creation of facilities in the college.
---
II. To create scholarships to meritorious and economically poor students.
To achieve this objective, ANRCOSA has created commendable endowment fund and has been adding to it from time to time. The interest on this is being distributed to deserving students on Merit-cum-Means basis.
---
III. To felicitate Old Students, Retired Teachers who rendered invaluable service.
To achieve this objective ANRCOSA created a convention to felicitate two retired teaching staff members on the Teacher's Day i.e. 5th September every year and this has been going on without any break.
---
IV. To conduct seminars and guest lectures with the help of College Management.
Several distinguished and eminent personalities who have excelled in their chosen fields have been invited to the college and they delivered Guest Lectures for the benefit of our students.
ANRCOSA approached a number of old students of this college in order to raise funds for development of the infrastructure of the college.
President - Dr. B. Syam Kumar
Vice-President - Sri. M.R. Prasad
Secretary - Dr. N. Krishna Mohan
Treasurer - Sri. K. Srinivasa Rao
Joint Secretary - Sri. Y. Bhaskar
Joint Secretary - Sri. P.J.S. Kumar
Contact :
Dr. N. Krishna Mohan
Secretary, ANRCOSA, Lecturer in Physics,
: 94400 41492
Sri. K. Srinivasa Rao
Treasurer, ANRCOSA and Superintendent
: 98481 53255
A.N.R.College, Gudivada - 521 301,
Krishna District, A.P.
: 91-08674-242145,
: 91-08674-242825.